The Delaware Restaurant Association is working closely with the state of Delaware & Delaware's Division of Public Health to ensure our industry's workforce is prepared to receive the COVID-19 vaccination in a timely, organized, and safe manner during the next phase of distribution.

Essential restaurant workers in Delaware are currently slated to be vaccinated in Phase 1c, also referred to as "remaining 1b" (read more about the vaccination tiers here).Right now, we are streamlining the process of vaccinations is to create a registry of industry workers willing to receive the vaccine when it becomes available to our industry. We can then utilize that registry to communicate vaccination events and provide registration details (as they become available in the coming weeks).

Vaccination Timeline for the Restaurant Industry
Step 1 – Share the Registry Link with your staff and industry coworkers
Step 2 – Complete the registry with your individual contact information if you are interested in receiving further communications and vaccination event information
Step 2 – DRA will communicate current vaccine information directly with those in the registry
Step 3– The DRA will coordinate vaccination events and communicate dates/times with those in the registry (as vaccines become available for our industry)
Step 4– Get vaccinated!

Add Your Name to the Restaurant Industry Vaccine Registry!

Please share this registry with your staff, coworkers, and those in the industry that are interested in receiving the vaccine.
We will use this registry to communicate date/time/location of industry vaccination events in the coming weeks!
Vaccination Policy White Paper
This White Paper covers legal challenges for employers on the topic of mandated vaccinations in the workplace, incentives for those that choose to vaccinate, and accommodations that must be made for those that cannot receive the vaccine.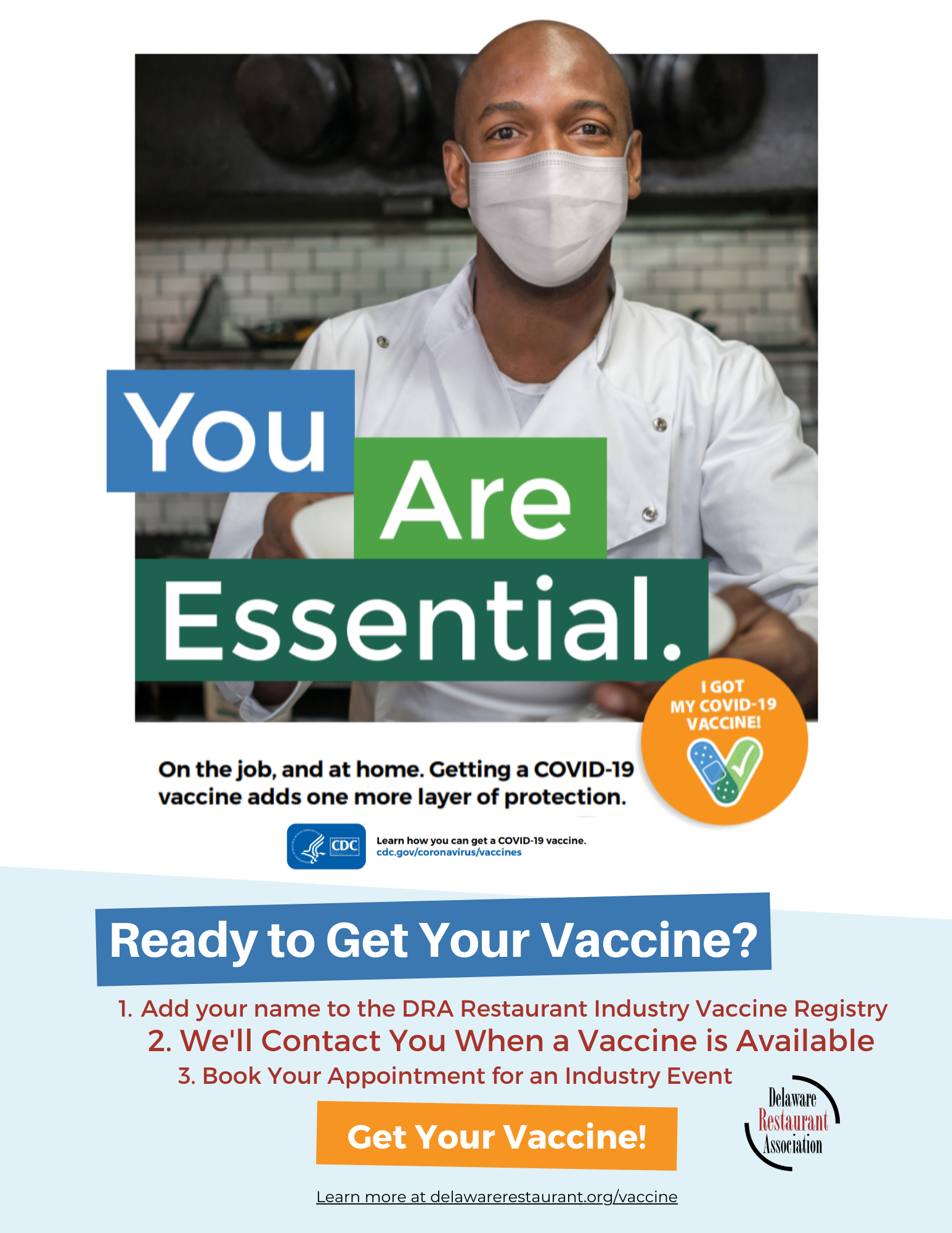 Important vaccine information is also included for employees, including how to sign up for the DRA Industry Vaccine Registry and where workers fall on the vaccination rollout timeline (currently Phase 1c or 'remaining Phase 1').  Please consider sharing/posting pages 3 & 4 of the White Paper in your workplaces.  
Download the White Paper Here

Additional downloads
State of Delaware Fact Sheet (in Spanish)
State of Delaware Vaccine Talking Points (in Spanish)